I'm feeling pretty horizontal about wedding planning, mainly because it's 16 months away which seems like an awfully long time. As I've mentioned in a previous post, once we've booked the caterers and the photographer, I'm not really going to put a great deal of thought into much more than that until it's at least a year away (for a start we need to save a bit more money). One thing that is way down the list is wedding rings. I'm much more excited about the prospect of cakes and desserts, wedding favours, bridal shoes and even DJ playlists than I am the wedding ring. But having given it a bit of thought, I've clearly got my priorities wrong, as long after the cake crumbs are swept away, the mason jars and ribbons are sold or passed on and the shoes are lost to the back of the wardrobe, the wedding ring will still be worn. In fact, it's weird to think that those bands of white gold or silver will wind around my finger for the rest of my life. So maybe I should dedicate more than a passing thought to it, and consider what Tom and I might like them to be like.
This was further prompted by a fun email that popped into my inbox recently from Wedding Rings Direct, telling me about the 'Going Bespoke' Blogger Challenge, where a handful of bloggers have been asked to think about what their wedding ring would look like if they custom designed it using a bespoke wedding ring service.
The idea of a bespoke ring rather sets my heart a-flutter – all of the elements of our wedding that we've discussed so far have been things that we like and are very 'us'; we certainly have not tied ourselves to any details or pre-requisites just because they are 'traditional' and instead we're just having things that would make up our vision of the perfect day. So having wedding rings that celebrate our personalities and preferences would certainly fit with that – I love the idea of having something different and unique.
Being a lover of the written word, it's no surprise that I love the idea of an engraved wedding ring.
img credit unknown // contact for removal
'together forever' ring – white gold – £373
I have always loved the rustic look of hand stamped engraving like in the first photo. I also love it when rings are engraved on the inside, it feels like it would be a secret that only the two of you would know. My friend has his wedding date engraved on the inside of the ring so he never forgets his anniversary. This is another interesting reminder…
img credit: fashionateddesires.com
Of course I also love anything to do with nature and woodland, so something with trees, leaves or branches would be beautiful. Some of the hammered silver rings look like bark anyway and would be perfect for someone like Tom who wouldn't want anything fussy.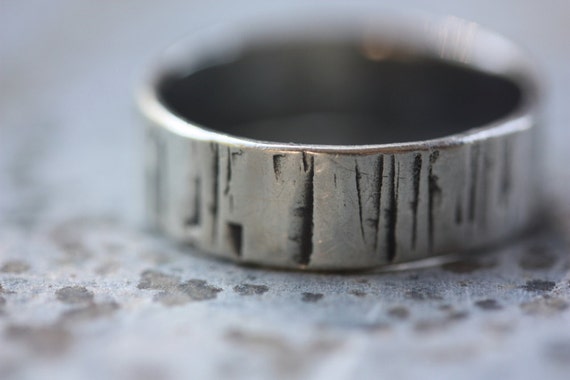 hammered silver ring, £36.14
On the theme of rings with interesting details, my Dad also told me about a technique they use to make swords, called pattern welding. Pattern welding is where you forge weld together different pieces of metal of different composition. He suggested it would look really effective for a ring, perhaps with rose gold and white gold. He showed me these photos – the technique creates amazing patterns and would look beautiful on a ring.
Over Christmas we chatted about the sort of thing I would like and he sketched out what a pattern welded section might look like on a wedding ring, I think it would look stunning.
I think a wedding band, with a patterned, intricate exterior and something engraved on the inside would be my dream, bespoke wedding ring. I'm now getting excited about what it might look like, and I think it's romantic that it's something Tom and I can plan and decide together.
Wedding Rings Direct are also running a Pinterest competition whereby you can win £300 towards your dream wedding ring, so if you're getting married next year or in 2015 like us you might want to give it an enter!
| find me on facebook, twitter or bloglovin |
{this post contains collaborative links}